MY EHS Summer Experience
Hello!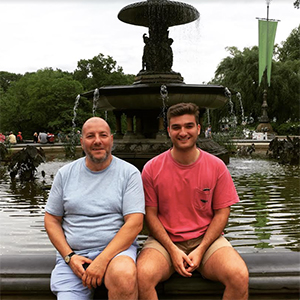 My name is Xhonatan Mezini. I am originally from Tirana, Albania and I moved to the United States when I was five years old. Ever since then, I have been living in Boston, Massachusetts. I had the great pleasure of growing up in one of the greatest cities in the country. I had the opportunity to attend Boston College High School, and there learned about my passion and interest in the business. This led me to apply to numerous universities within the city. I was fortunate enough to get into Boston College. While at B.C., I have focused on two aspects – my academics and extracurriculars. I am in the Carroll School of Management studying Finance, and I am minoring in American Studies with a specific focus on Law, Politics, and Culture. Outside of the classroom, I am the President of the Boston College Finance Academy and the Boston College Portfolio Challenge. Furthermore, I am a Teaching Assistant for a Freshman Business Ethics course, and a member of the Men's Varsity Crew team. This summer, I had the unique opportunity to intern for Citigroup, specifically in their Markets Division. While at Citigroup this summer, I was able to pursue my interest in Finance beyond the classroom, and really learn more about what I have been interested in since high school. This summer, I was a Summer Analyst within Markets (Sales & Trading). My decision to come to New York City for the summer was really big. I am an only child, and the thought of leaving home and Boston really scared my parents and me. I was nervous of the big city. Looking back now, I know coming to NYC for the summer was the best possible decision I could have made for myself. One of the most important things I have learned so far in life is that you have to take risks and step outside your comfort zone. NYC was exactly that for me. However, I felt at ease once I got to my EHS apartment this summer. Everyone I met was so kind and welcoming, and I had no issues transitioning into the city.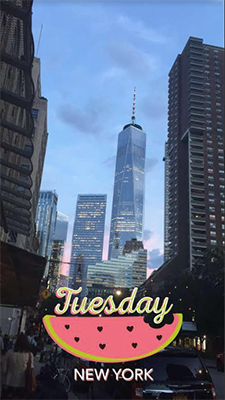 This summer I lived in the 55 John Street building, which is located in Downtown Manhattan, the Financial District. Once I arrived in NYC, I was surprised at how big the city really is. There are so many moving parts to it that you feel constantly overwhelmed with all the people and activities that you can partake in. EHS has numerous offerings for housing; however, I knew that I wanted to live in the 55 John Street building because of its location. My main factor was being close to work. The 55 John Street location is an ideal spot for any intern working in financial services this summer. Its location is prime for walking to local offices in the Financial District and Tribeca, and additionally, its closeness to the Fulton Subway Station makes it an ideal location for other offices throughout the city. Even though I was in this massive city, I was surprised about how small it actually felt, and I owe this to the community I lived in. What I learned this summer while in the Financial District was the sense of community and family in New York City. The surround communities really made the city a lot smaller and made it feel like home. I was really surprised by this. I think we all watch movies and have this idea about how NYC is nonstop, the city that never sleeps; and yes that is true, there is always something to do, but you can always go back to a place and call it home. After this summer, that was the Financial District and the 55 John Street building for me. Now even though I felt a great sense of community and really got to know my building and the surrounding areas, at the end of the day, I was in New York City last summer for my internship.
My internship was very hard, but I learned a lot, and it is an experience that I will never forget because it shaped my career development. This summer during my internship, I was surprised about the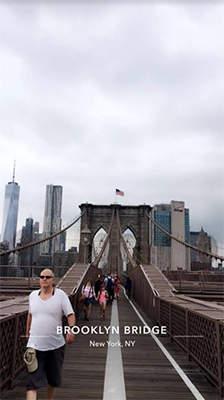 level of responsibility they gave us as summer interns. I was told that interns would sometimes do meaningless work; nevertheless, I never felt that way this summer. I was challenged like I have never been challenged before, but at the end, it was all worth it because I was given a full-time offer for the Analyst program. During the internship, I had the opportunity to rotate through three different products within Equities and Fixed Income in the Markets division. I worked on numerous projects with people from all walks of life. I was pushed to challenge myself with my work and deliverables. Yes, I stumbled a few times this summer, but I never backed down from a challenge and always got back on my feet. I am excited to say; I will be returning to NYC as I have accepted my offer from Citigroup. When I was not in the office, I called 55 John Street home. I loved 55 John Street because of its location. It was in the heart of Downtown Manhattan. I absolutely loved my walk to work every day. On my way down to work, I always had the chances to see the New York Stock Exchange and the Freedom Tower.
The location of 55 John Street made it possible for me to immerse myself in all the cultural activities to partake in the Financial District. The people who worked at EHS added to the success of my summer. The staffs at 55 John Street were all amazing people, from the janitor to the resident assistants; everyone was so nice and helpful throughout the whole summer. I never had any issues with someone at EHS because the people were absolutely great, and they all added to my success because they made 55 John Street a comfortable home. Furthermore, the staff held numerous events for the residents of the building. During these activities, I had the chance to make new friends from other schools and working at other companies throughout New York City. One of the best events held by my building was the free breakfast every Wednesday. This was awesome because we got free breakfast, but also because we could take a moment to be thankful and have a coffee with some of our fellow residents.
The people at 55 John Street were amazing. I had the opportunity to develop important and meaningful relationships with a few people at the building, specifically some of the building security guards. The building has a gym that made it so convenient for working out in the morning before heading to work. This was definitely a big swaying factor in my decision to live in this EHS building. The neighborhood surrounding 55 John Street is so rich in history. The location is prime for anyone interested in learning more about the founding of New York City. There are amazing spots for food and leisure surround 55 John Street. Some iconic locations within five minutes of the building are the Freedom Tower, the 9/11 Memorial, Battery Park, the New York Stock Exchange, the Brooklyn Bridge, and many other locations. Furthermore, the people who work and live in the area were so nice. I felt like I was at home with so many of the relationships I developed with individuals from my community. After work, I loved heading to the Irish American Pub with my roommates and work collogues. This spot is a staple for anyone living in the Financial District, especially for people at 55 John Street because the pub is on John Street itself. This was a great spot because it had amazing food and great deals every night. We could play billiards or partake in karaoke night with people from our community. It was a great way to unwind from the long day at work.
Other ways I got to explore NYC was through the events hosted by EHS. I had never been to Yankee Stadium, and EHS had this awesome opportunity where we could go to a Yankees game with other residents from 55 John Street and other EHS buildings. It was a great way to actually get out of the city and experience a staple of the NYC summer experience. One of my favorite activities in New York City this summer was exploring new museums and hanging out at Central Park. First off, there are so many museums in the city that you could not visit all of them during the summer. I tried my best but only managed to visit seven museums. Additionally, I loved Central Park. It was a great spot to go during the weekend and have a picnic or play soccer with friends. I always enjoyed walking the park and getting to enjoy some fresh air in the busy city. I think Central Park was one of the only spots in New York where it was quiet, and I promise that is a good thing in the bustling city.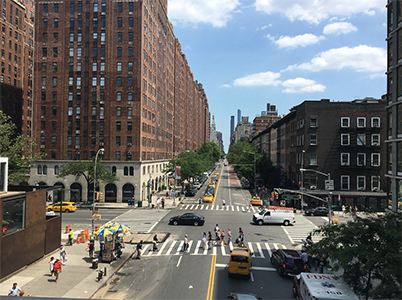 I am most proud of receiving a full-time offer from Citigroup. The summer was so tough and so competitive because of all the intelligent interns. Throughout the summer you feel you won't get an offer, so coming off a ten-week internship with a full-time offer was a huge moment for me. I'm also proud of myself for being open to NYC and actually falling in love with the city. I am so happy I will be able to live in NYC for at least the next two years of my life. I am going to miss the people and the city itself. I made so many meaningful relationships this summer that it was very hard saying goodbye to my friends. The city has so much to offer that there is always something to do. Finding new activities every time you go out in Boston is difficult, so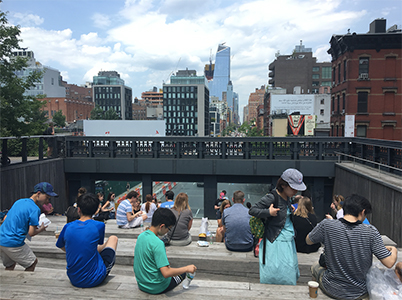 having so many options in NYC will be something I truly miss. My favorite memory from EHS was during the pizza party while we were moving into the dorms for the summer. This was my favorite memory because everyone was so open to meeting new people and talking about how excited we were for the summer. There was never another time during the summer where we all got to be in the same location as a group, so having that during the first day in NYC made the transition into 55 John Street and NYC a lot easier for me. If I could go back in time, I would tell myself not to be nervous about New York City. I think it is definitely easier said looking back, however. I had no idea what I was getting myself into coming from Boston and living on my own for ten weeks in NYC, but at the end of the day I learn so much about myself, and I was so proud that I could survive in the big city without my parents. I would tell myself to be more confident in myself and be open to new ideas and exploring new things while in NYC. To anyone who has the opportunity to work in New York City for the summer, I would highly encourage you to take the internship. I recall a quote from John Lennon where he basically said that today's Rome is New York City. He was saying that NYC is the center of the world, and I 100 percent agree with him on that. Everyone wants to come to NYC, and if you have the unique opportunity to intern here for the summer, then you should definitely take it. Yes, it will be hard and challenging, but that is what life is about.
Take the challenge and come to NYC, you will absolutely love it, and you will never find another city which can offer you so much at such a young age.