Back to News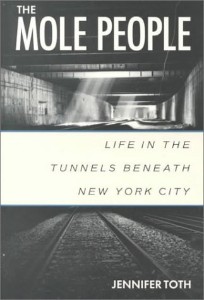 July 28, 2015
NYC Underground – Mole People
Have you ever wondered what really happens underground in NYC?
Well of course we all know there's the subway, but is that all that's down there? NYC has many secret tunnels and passageways underneath our feet. We don't notice them because we tend to focus on what we're looking for and not what's around us. You've probably walked by or stood upon one of these entrances without even knowing it. What lies behind these doors is a mystery to us, but for some it's a city we've never seen before. This is a world that has been viewed only by what are known as the mole people.
Urban legend or urban day truth, the discussion of mole people has grown in discussion over the past fifteen years. Some adamantly believe mole people exist others disagree. Mole people are said to be inhabitants below ground. The mole people consist of homeless individuals, the mentally unstable, and those that have retired from society. So the next time you're on the train or walking the mean streets of NYC keep a close eye out. You might have had an encounter with a mole person!
For more information about mole people click here or you can read all about it in The Mole People: Life In The Tunnels Beneath New York City by Jennifer Toth. Toth's book can be purchased on Amazon for just $11.53!!