Upcoming Events
As an EHS resident you can attend any of our building events. Dont forget to show how much fun you have with EHS by tagging us on
Facebook
,
Twitter
, or
Instagram
. Use hashtag
#studentlivingEHS
to join the conversation. For a complete list of events, click on the calendar or visit your building's Facebook group (links below).
St. George Towers Facebook Group | 1760 Third Avenue Residence Facebook Group | Marymount Residence Facebook Group | New Yorker Residence Facebook Group | 55 John Street Residence Facebook Group | Cooper Square Facebook Group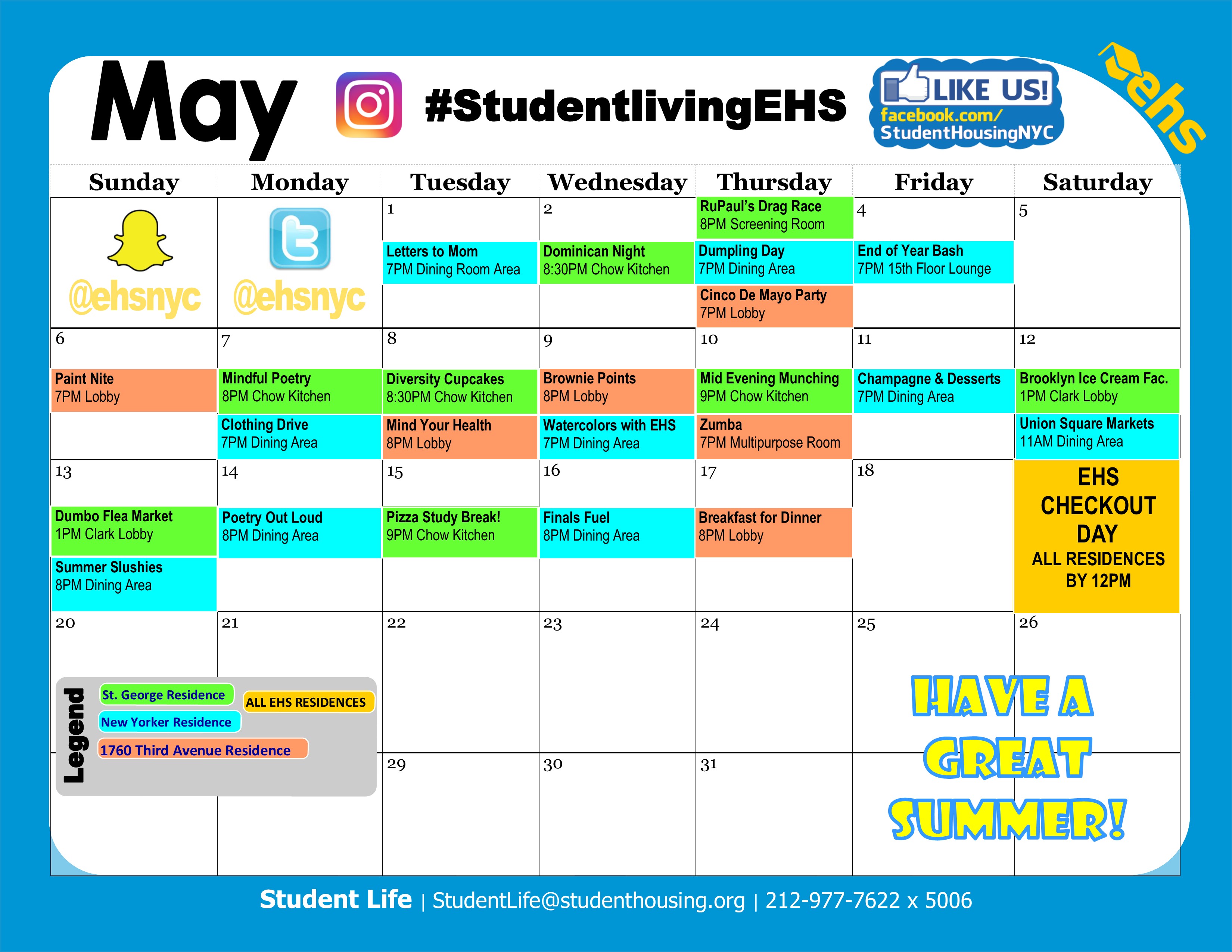 Featured Event!
St. George Towers
McConaughey Movie Night - Thursday, September 22nd, 2016
Alright, alright, alright…come on down to the Screening Room Thursday, September 22nd at 7:30pm to mingle with your fellow residents, enjoy a slice and the cult classic "Dazed & Confused". We will be watching this hilarious comedy that kick started the career of Matthew McConaughey, Milla Jovovich, and Ben Affleck. Pizza and popcorn will be served, but space is limited so sign-up today!!
_____________________________________________________________________________________________________________________________________
New Yorker Residence
Pokemon Go Hunting - Saturday, September 24th, 2016
I wanna be… The very best… Like no one ever was…Hey there, Pokemon Trainers! Grab a friend, charge your phone, and join EHS RA Michael Holler as we travel throughout the city to catch some Pokemon! Need those Kilometers to hatch that egg? Want to find that one, specific Pokemon? Well, now is your chance! Meet up at the Student Life Office on Saturday, the 24th at 2PM to start on your own adventure! And remember, don't wake up too late- lest you be stuck with a Pikachu!
1760 Third Avenue Residence
Chelsea Piers Batting Cages - Sunday, September 25th, 2016
Hey 1760 residents, it's time to play ball! We're headed to the Chelsea Piers Batting Cages on Sunday, September 25, 2016. We will meet in the 1760 Lobby at 12:00pm. You only have to pay $2.75 for 10 pitches or $5.50 for 16 pitches. Sign up today at the 1760 Student Life Office. We can't wait to see you there and don't forget to bring your "A" game.
For more events happening in NYC, check out NYCGO or Click Here for a complete list of NYC events.