Upcoming Events
As an EHS resident you can attend any of our building events. Dont forget to show how much fun you have with EHS by tagging us on
Facebook
,
Twitter
, or
Instagram
. Use hashtag
#studentlivingEHS
to join the conversation. For a complete list of events, click on the calendar or visit your building's Facebook group (links below).
St. George Towers Facebook Group | 1760 Third Avenue Residence Facebook Group | Marymount Residence Facebook Group | New Yorker Residence Facebook Group | 55 John Street Residence Facebook Group | Cooper Square Facebook Group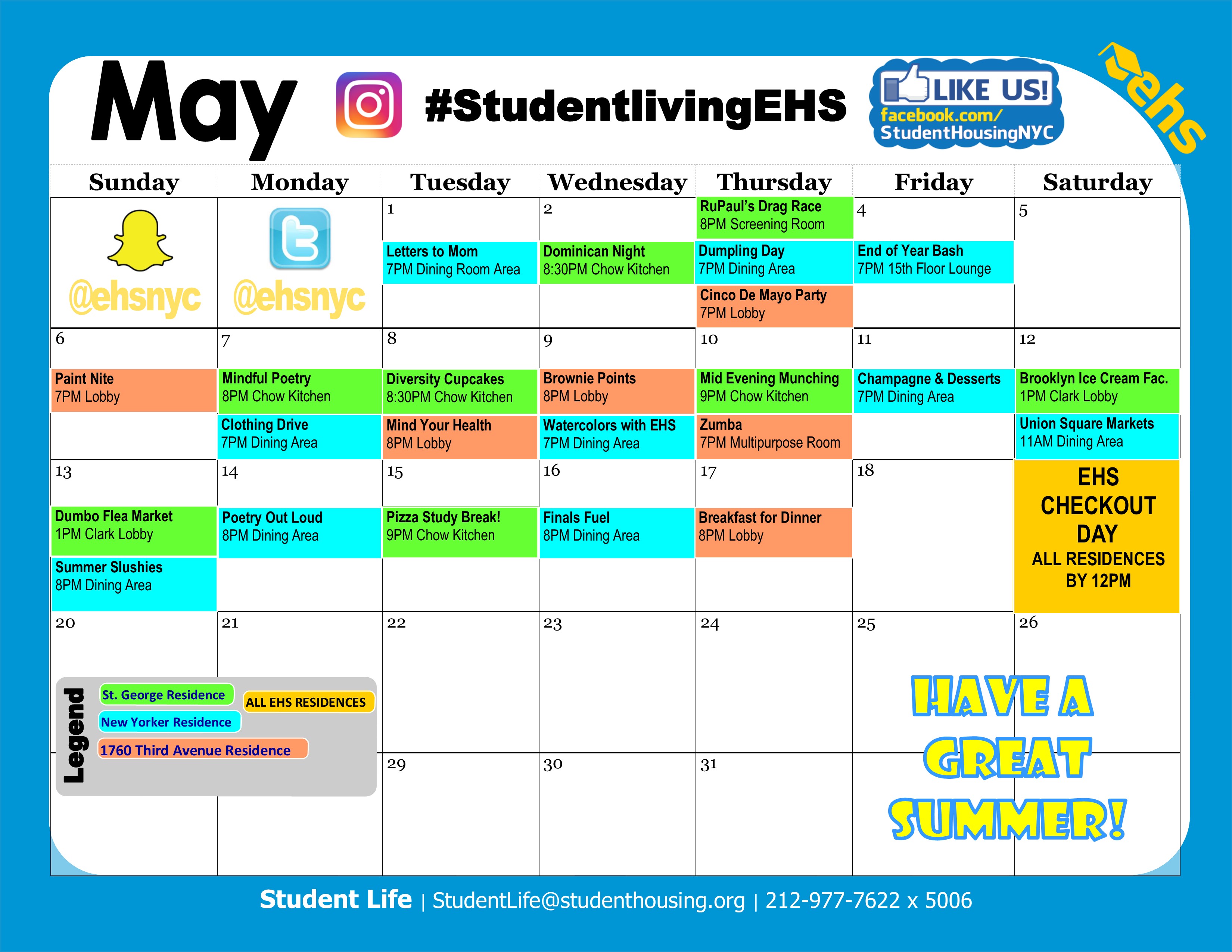 Featured Event!
1760 Third Avenue and New Yorker Residences
New York Cares Day - Saturday, October 22nd, 2016
Join us on Saturday, October 22nd, 2016 as we team up with New York Cares for New York Cares - Fall Day! Come roll up your sleeves as we give a little TLC to a school in need. On New York Cares Day, EHS will be taking a trip to PS 161 Ponce De Leon in the Bronx, to clean up and paint some areas that need a little extra love. This is a great way to complete your Volunteer requirements with your school! For more information, email us at Studentlife@studenthousing.org. For depature times and to register, stop by the Student Life Office within your building.
_____________________________________________________________________________________________________________________________________
St. George Towers
Brooklyn Flea - Sunday, October 2nd, 2016
Love shopping? Love eating? Love Brooklyn? The Brooklyn Flea is for you! Conveniently located under the Manhattan Bridge, this flea market is only open on Sundays. First 10 sign ups get a free ice cream on us! PS - If you post your best flea market find on Instagram using the EHS hashtags you can win a prize! Come with us to find out more! Meet in the Clark Lobby at 11AM.
1760 Third Avenue Residence
Blood Drive - Wednesday, October 5th, 2016
Hey 1760 residents, join us for our semiannual Blood Drive! Give the gift of life by donating blood today. By donating you will also be entered for a chance to win a $25.00 gift card. Did you also know that close to 2,000 donations are needed each day in the New York/New Jersey community for patients who require a lifesaving blood and/or platelet transfusion? The Blood Drive will take place in the Library from 3PM-9PM. Sign up in the Student Life Office.
New Yorker Residence
Paint Still Life - Thursday, October 13th, 2016
You've been studying really hard…why not take a night to relax and paint! Join EHS RA Taylor DeSantis on Thursday, October 13th at 7:00PM, in the Dining Area to paint your hearts' desire and enjoy a snack. No skill or talent required! Supplies will be provided!
New Yorker Residence
Stranger Things Marathon - Friday, October 21st, 2016
What's the one thing that comes to mind when you think "Halloween"? Scares! Get ready for this Halloween with some Stranger Things – the critically acclaimed Netflix Series is coming to EHS! Marathon this series to prepare yourself for this festive season, and grab your friends… because food and snacks will be provided! Meet us in the TV Den Room at 7PM.
1760 Third Avenue Residence
Annual Halloween Party - Monday, October 24th, 2016
Join us on Monday, October 24th for our annual Halloween party. Enjoy a night of dancing, good food, candy, and amazing costumes. We will host such contests as the best costume contest, donut eating, pie eating, and many more. The scares start at 7PM in the Lobby.
St. George Towers
Halloween Makeup Tutorial - Thursday, October 27th, 2016
Love all those Halloween makeup looks but don't know how to achieve them? Come join EHS RA Zoe Reda and some of our MUD (Make-up Designory) residents to perfect your costume makeup! Bring some old makeup supplies and make sure to wear something you can get dirty. Can't wait to see your looks! Join us in the Summit Room at 8PM.
For more events happening in NYC, check out NYCGO or Click Here for a complete list of NYC events.