Upcoming Events
As an EHS resident you can attend any of our building events. Dont forget to show how much fun you have with EHS by tagging us on
Facebook
,
Twitter
, or
Instagram
. Use hashtag
#StudentLivingEHS
to join the conversation. For a complete list of events, click on the calendar or visit your building's Facebook group (links below).
St. George Towers Facebook Group | 1760 Third Avenue Residence Facebook Group | Marymount Residence Facebook Group | New Yorker Residence Facebook Group | 55 John Street Residence Facebook Group | Cooper Square Facebook Group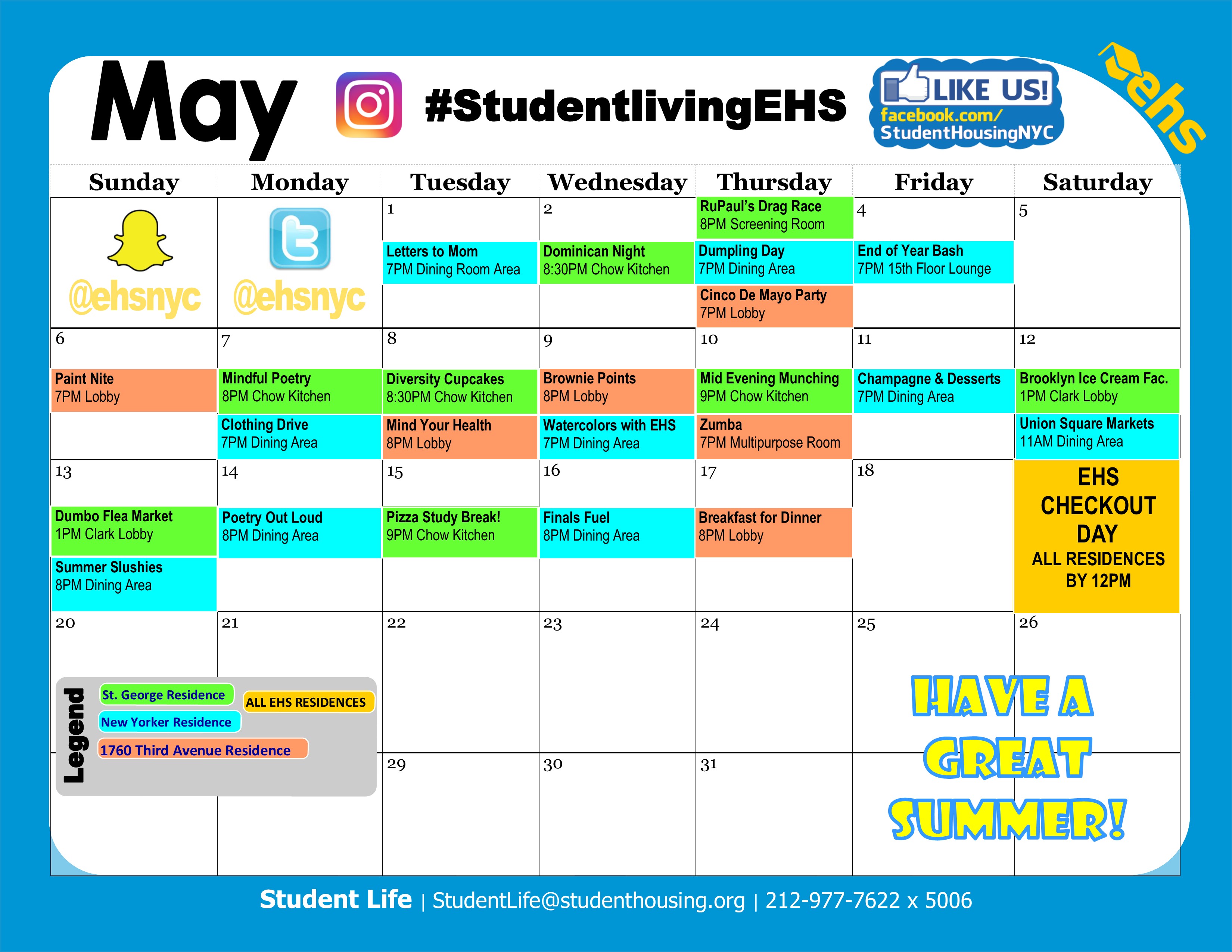 Featured Event!
St. George Towers
End of Year Farewell + Bed & Breakfast Comedy Show - Wednesday, May 10th, 2017
The spring is near its end and we want to celebrate a wonderful year with you! Come through the Chow Kitchen and Silver Screen to enjoy breakfast for dinner followed by the Bed & Breakfast Comedy Show's One-Year Anniversary! Thank you for making EHS at the St. George such a wonderful community! Have a terrific summer! Come to the Screening Room at 8PM.
_____________________________________________________________________________________________________________________________________
1760 Third Avenue Residence
Backyard BBQ - Thursday, May 11th, 2017
It's so hard to say GOODBYE! Thank you 1760 residents for providing us with a joyful and eventful academic year. As a thank you to a wonderful year we want you to join us for our Backyard BBQ sponsored by EHS, the Baruch RA staff, and the Baruch Residence Hall Council. It will be an evening of fun and games and delicious food. We hope to see you there. Fun starts at 7:30PM.
New Yorker Residence
Brunch Block Party - Friday, May 12th, 2017
It has been an awesome semester with you, and to celebrate we would like to cordially invite you to our Brunch Block Party on Friday, May 12th at 6:00PM. Enjoy refreshments and brunch food, participate in our raffle, play ping pong and more! The first 20 people will enjoy chicken and waffles!
For more events happening in NYC, check out NYCGO or Click Here for a complete list of NYC events.