Upcoming Events
As an EHS resident you can attend any of our building events. Dont forget to show how much fun you have with EHS by tagging us on
Facebook
,
Twitter
, or
Instagram
. Use hashtag
#LifeAtEHS
or
#ehsNYC
to join the conversation. For a complete list of events, click on the calendar or visit your building's Facebook group (links below).
St. George Towers Facebook Group | 1760 Third Avenue Residence Facebook Group | Marymount Residence Facebook Group | New Yorker Residence Facebook Group | 55 John Street Residence Facebook Group | Cooper Square Facebook Group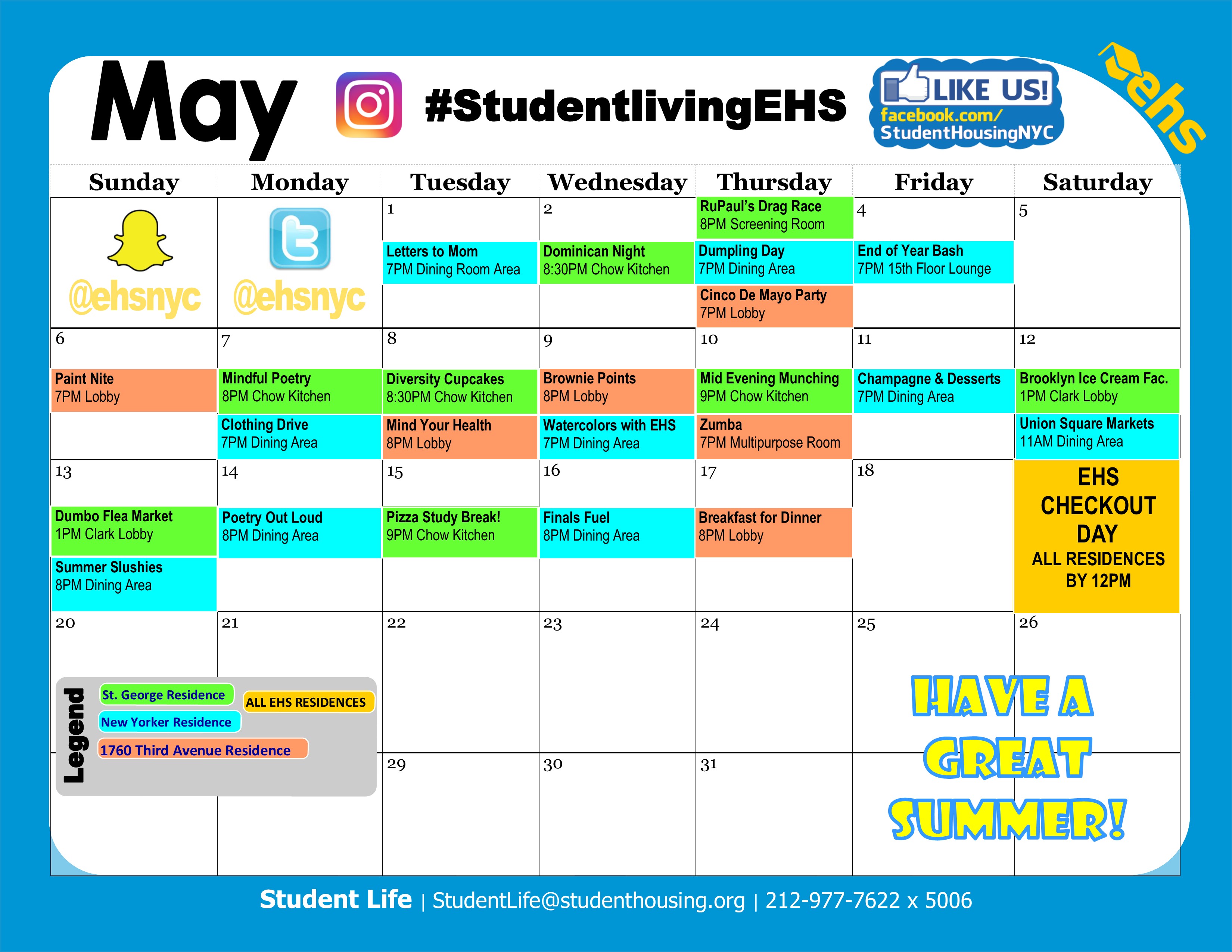 Featured Event!
Pokemon Go Gym Takeover - St. George Residence
Monday, August 1st, 2016. Meet in the Clark Lobby at 9PM.
Join EHS Having a tough time taking down a gym? Looking to get that daily defender bonus? Tired of seeing team Mystic everywhere (or want to continue team Mystic domination)!? We're going to help you mobilize for a gym takeover! Whether you are Valor, Mystic or Instinct, come down and we'll get you partnered up with fellow team members from the building so you can get out there and take over nearby gyms for your team!
_____________________________________________________________________________________________________________________________________
Butterlane Cupcakes - Cooper Square Residence
Tuesday, August 2nd, 2016. Meet in the Lobby at 8:15PM.
Enjoy a sweet treat with EHS Amanda after a long day of work! Why? Because every day should feel like your birthday at EHS! The first 10 sign-ups are on us!
Billiards Tournament - New Yorker Residence
Thursday, August 4th, 2016. Meet in the 15th Floor Lounge at 7PM.
You have played and perfected your skills all summer long and now it's time to put your talents to the test! Join RA Dominic as he hosts a Billiards Tournament in the 15th floor Lounge on Thursday, August 4th at 7PM. Prizes will be given to the 1st and 2nd place finishers.
Roller Skating Night - 1760 Third Avenue Residence
Friday, August 5th, 2016. Meet in the Lobby at 6PM.
Come out and skate the sun down at Pier 2 in Brooklyn Bridge Park. We will skate and have an awesome time and for those who don't want to skate there is always the beautiful park that is free to explore. Free Admission for the first 10 sign-ups and skate rental is only $6.00. For more information, visit Brooklyn Bridge Skating.
Packages and Chips - Marymount Residence
Saturday, August 6th, 2016. Student Life Office Hours of Operation
Before the summer ends, we want to make sure you grab all your packages and letters before you leave! Plus we want to say goodbye and share some treats! Stop by the Student Life Office on the 2nd floor anytime between 12pm-10pm.
Empire State Building - John Street Residence
Saturday, August 6th, 2016. Meet in the Lobby at 1PM.
New York is called the Empire State for a reason! Come and visit the most iconic building in New York City! Enjoy the views and see the city from a whole different perspective. You must purchase your discounted $20.00 ticket in advance in the Student Life Office. Tickets are LIMITED and non-refundable. We'll meet in the John Street Lobby at 1:00PM.
For more events happening in NYC, check out NYCGO or Click Here for a complete list of NYC events.