Welcome
---
This section of the EHS Student Life website will give you a variety of information about the St. George Towers that can help you before you arrive as well as during your stay. You will be able to request room repairs, view events, meet the staff, find local discounts and more. If you have any questions email us at St.George@studenthousing.org. Enjoy!
Meet the Staff
Robert Haynes

Associate Director of Residence Life

Robert Haynes

Associate Director of Residence Life

Originally from Charleston, Arkansas, Robert joined EHS in the summer of 2012. A graduate from Arkansas Tech University, he earned both a Bachelor of Science in Business Administration with emphasis in Management and Marketing and a Master of Science in College Student Personnel. Prior to joining EHS, Robert served as a Resident Director at both Union College in Schenectady, NY and William Paterson University in Wayne, NJ. In his spare time, he enjoys reading in Central Park, catching a show on Broadway, or hitting the tennis courts with friends.

Taylor Rogers

Associate Director of Residence Life

Taylor Rogers

Associate Director of Residence Life

Taylor graduated from Youngstown State University in Ohio with a degree in Psychology and moved to NYC in Fall 2013. While pursuing her Master's degree in Forensic Psychology from John Jay College of Criminal Justice, Taylor quickly became interested in an EHS Resident Advisor position. After graduating with her Master's degree, Taylor began as a full-time Resident Director for the St. George Towers and Clark residences. Using her interests in people and communication, Taylor enjoys getting to know residents and referring them to lesser known NYC landmarks and great food. Coming from a small Midwest town, she loves helping students adjust to big city living."With EHS, you have a second family that is always there for you."

Brendan Mahoney

Associate Director of Student Life

Brendan Mahoney

Associate Director of Student Life

Brendan is one of the two Residence Directors in Brooklyn Heights. Having joined the EHS team in the summer of 2015, he works to foster a strong community throughout the St. George. Focusing on quality programming and student engagement he aspires to have Brooklyn Heights truly feel like home for all residents. Before EHS Brendan worked at Stony Brook University as a Residence Hall Director. He graduated from the University of Virginia with his B.A. in Economics and M.Ed. in Higher Education, Student Affairs Practice. Originally from the D.C. Metro Area, and living on Long Island before coming to work at EHS, Brendan spent most of his free time commuting to the city to visit friends, go to shows, and explore. He is thrilled to have access to all of the city now just moments from his doorstep!

Zoe Reda

Resident Advisor

Zoe Reda

Resident Advisor

Zoe Reda, a Buffalo, NY native, is pursuing degrees in Journalism and Media Communications at Baruch College. When she's in the mood for a good show on TV, her go-to is Shameless. Even though she's addicted to coffee, she enjoys activities of the relaxing nature such as yoga and meditation. Once she's cleared her mind, Zoe can be found thrift shopping, sneaker shopping, at a yoga class, or writing articles. Zoe advises that residents "take advantage of all the free stuff that NYC has to offer! There are a multitude of free yoga, fitness, and writing classes that so many people don't know about/utilize."

Jeremy Renner

Resident Advisor

Jeremy Renner

Resident Advisor

Jeremy Renner may share his name with the famous actor from the movie "Hurt Locker" but he has yet to win an Oscar. While he studies Computer Information Systems, his interests include film, photography, as well as drawing. His passion for skateboarding has taken him to all five boroughs even before he moved to the city. Jeremy hopes to continue exploring the city, finding new food, and attending more concerts in the summer months.

Nidia Peralta

Resident Advisor

Nidia Peralta

Resident Advisor

Nidia Peralta is a Political Science/Economics Major at St. Francis College and was born in Massachusetts but raised in the Dominican Republic. This now Brooklyn/Bronx native enjoys watching Scandal and her favorite song is Piece by Piece by Kelly Clarkson. Nidia has a weak spot for chocolates, but also enjoys seafood and pasta. Outside of the classroom and work, she enjoys spending quality time with friends and family. Traveling is Nidia's favorite hobby as she gets to experience other countries and cultures. Her favorite thing to do in NYC is to explore places with diversity; all the different restaurants, neighborhoods and museums. While living in NYC, Nidia urges you to have the maximum experience. Venture out to new places and enjoy all the different activities in the city that never sleeps!

David Scholes

Resident Advisor

David Scholes

Resident Advisor

David Scholes is a Corporate Communications Major at Baruch College and is originally from Poughkeepsie, New York. David enjoys watching The Office or Planes, Trains, and Automobiles. During his downtime, David likes to go hiking, swimming, biking, and enjoys catching up on the news and the world of politics. David also loves to visit smaller and lesser-known neighborhoods all over the city. There is so much in our backyard! He's looking forward to learning more about the Brooklyn Heights neighborhood and getting to know all the residents at the St. George Towers. He's thinking of doing a bike tour of Brooklyn on his bike, since biking is an excellent way to see NYC's sights. He definitely recommends residents rent a bike for a weekend and take time to explore their environment in a fun and easy way! "I love how EHS feels like my home. Meeting a diverse group of people from all over the world is a great plus to living with EHS. Don't stay in your room and watch movies when you can go to the places they're filmed!"

Lola Jacobs

Resident Advisor

Lola Jacobs

Resident Advisor

Lola Jacobs attends Baruch College and is pursuing a degree in English and Writing. Although she calls Brooklyn home, her favorite thing to do is sightsee in NYC. She never gets tired of it since there is always something new to see. When she's not out exploring, she enjoys reading, writing, running, or snacking on some M&Ms. Lola says her favorite part about EHS is that "the students living in the building are all from different schools, which provides entry into another student's major and understanding of academic life. Because of this, it's very easy to network. The connections live all around us and there's an opportunity for them to blossom into long lasting friendships." Lola recommends you spend more time outside than trapped indoors, weather permitting. If you ever get too hot or too cold, seek refuge in a store. Also, try not to limit yourself to one location in a day. Let the wind guide you!

Garrison Shepard

Resident Advisor

Garrison Shepard

Resident Advisor

Garrison Shepard is studying Computer Science at Hunter College and is from Oneonta, NY. Garrison's favorite movie is Rush Hour and likes to tune into "Jungle" by Drake. Garrison enjoys staying physically fit and heads to the gym on a regular basis. When he's not working out, he enjoys playing the guitar. Garrison's favorite thing to do in NYC is visiting new restaurants with friends. He's interested in exploring parts of NYC that he hasn't had the luxury of going to yet. Garrison recommends while in NYC that you stay open minded; the city has a lot to offer if you are willing to accept it.
Student Life Office
55 Clark Street Brooklyn, NY 11201
---
Contact Information
Located in the Clark Tower
212-994-8813
For questions about availability call: 1-800-297-4694
Office Hours
Monday - Friday: 9:00am to 10:00pm
Saturday: 10:00am to 10:00pm
Sunday: 12:00pm to 8:00pm

Please note, office hours are subject to change.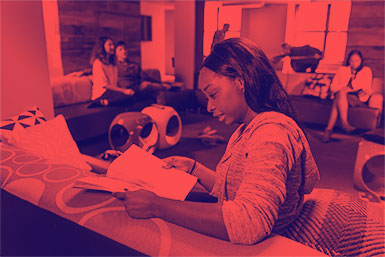 Policies
Help create a safe environment for yourself, and all of our residents and guests, by following these policies throughout your stay.
Residence Code of Conduct Guide >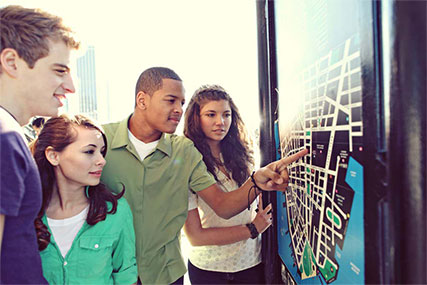 Events
Learn about upcoming Student Life activities, connect with your community and view pictures from past events by visiting our St. George Towers Facebook group.
Upcoming Events >
VISIT FACEBOOK >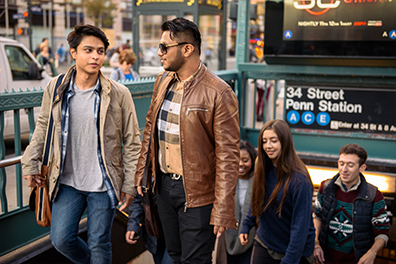 Discounts
Save money on everything from grocery stores to salons, with our list of NYC deals.
View Discounts >

Mail & Deliveries
Review our procedures for mail, packages and food deliveries.
Learn More >
Mailing Address
Resident Name
C/O EHS
Room # (Received upon move in)
55 Clark Street
Brooklyn, NY 11201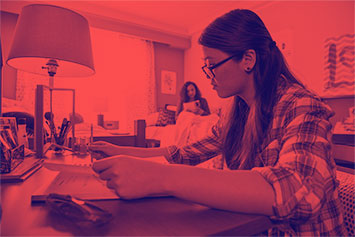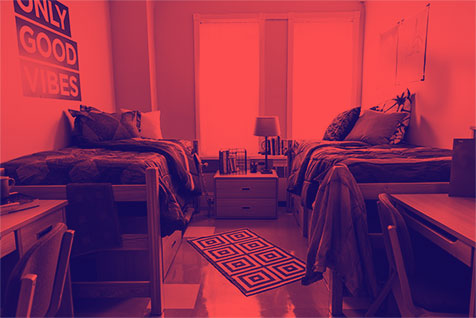 Departure Information
While we are sad to see you go, please read through our procedures to ensure a smooth check out.
Plan your departure >
Safety & Security
Your security and safety is our top priority. Here you will find important information on who to contact and what to do in case of an emergency.
SAFETY & SECURITY INFORMATION